Detox & Transitional Beds (42 beds)
Clients served (FY2020-2021)* numbers impacted by COVID-19
Alpha House's Detox and Transitional Program opened in 1982 and is co-located in our downtown facility with our Shelter Program to facilitate easy access to medically supported withdrawal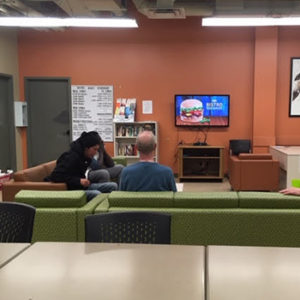 The Detox program offers a stable setting for people withdrawing from an addictive substance. An initial assessment can take place at any time and through any form of communication such as in-person, by phone, or by email. Detox services include:
Withdrawal management, which includes detox assessment, nursing and medical assessment, opioid replacement therapies, referrals to long-term treatment centres, and access to our housing team
Acupuncture and yoga sessions are offered as well as volunteer lead monthly art classes, music circle, and haircuts
Indigenous supports include access to an Elder, Sweat Lodge Ceremony, Pipe and Sharing circles
Daily programming is provided on various topics (relapse prevention, harm reduction, etc.)
AA and Wellbriety Group (Step program within an Indigenous Context) are offered
Alpha House provides 12 transitional beds in its detox facility to individuals who have completed their detox program and are awaiting start dates for drug-treatment or housing programs. Detox is a requirement for many rehabilitation facilities, but wait times for bed availability can be substantial. Our transitional beds provide a safe environment for clients to assist them in achieving their goal of entering a rehab program.
Individuals wishing to enter into either the Detoxification or Transitional Bed Program can call 403-234-7388 Ext #2 to inquire about bed space or arrive at 203 15 Ave SE and ask to be assessed for the Detox Program.
A person must complete a detox program before they can be considered for a Transitional Bed.
Residential Detox Treatment Services License