Permanent-Supportive Housing Units
Our housing programs provide a base of stability for Calgarians who need a safe place to live. We believe everyone deserves to have a safe, stable home. Our programs includes Community Housing and Permanent-Supportive Housing (PSH). We work with all communities in Calgary to find independent living opportunities for community housing clients and operate seven place-based buildings in our PSH program: Madison Place (Veterans), Providence House, Francis Manor, Aurora on the Park, Lodging House, Women's Building, and The Clayton. Our accredited housing program abides by the philosophies of Harm Reduction and Housing First with the capacity to provide housing for just over 300 individuals.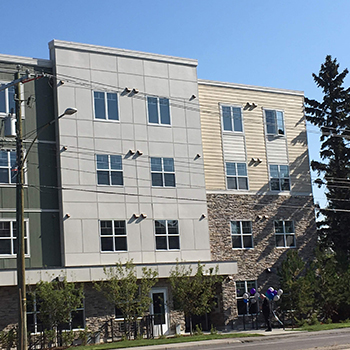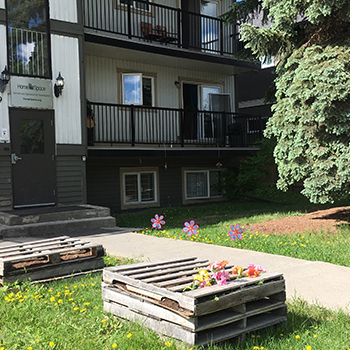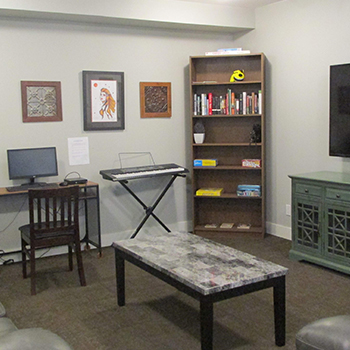 Permanent-Supportive Housing
Our permanent-supportive housing includes seven place-based buildings with specific emphasis on supporting historically underserved populations: Indigenous Peoples, Veterans, Women, and individuals struggling with mental health and addiction. We provide intensive case management support at all buildings twenty-four seven to assist residents with healthy guest management and housekeeping skills, while they improve their current living conditions and health.
All five buildings provide shared common areas, bachelor suites, and one-bedroom units. Each building serves one meal per day, graciously provided by Meals on Wheels. The PSH model allows Addiction Support Workers to provide unique case management to each individual resident and close proximity allows staff to complete tasks quickly for multiple residents. We have found great success in developing and implementing a well-rounded programming model that meets each individual client's needs while also providing group programming to help clients build relationships with other residents and staff.
Community (Scattered-Site) Housing
A home is a place where people can work on other aspects of their lives to create a healthier future. It is a platform for changing lives. Clients in our Community Housing program are housed throughout the community in their own units and sign their own leases. They work with caseworkers on a routine basis to identify goals and work towards them. Caseworkers provide hands-on case management and help clients with their basic and long-term needs including managing medical or other appointments, and improving housekeeping and guest management skills.