Calgary Alpha House Society was established in 1981 as a committed response to a marginalized population of men and women who are addicted to alcohol or other drugs and living vulnerable on the streets of Calgary.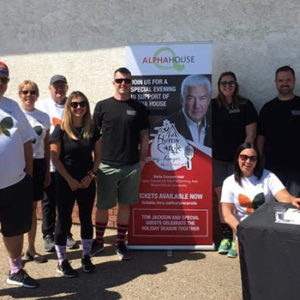 Our services include a Shelter and Detox facility, Outreach Programs, and Housing Programs with intensive case management. The scope of our work is a direct intersection of homelessness, addiction and mental and physical health issues. We undertake programs to support improving the lives of vulnerable individuals while simultaneously having a positive impact on the broader community through dedicated responses to social issues.
For over 40 years, we have helped people with addictions. Innovation is at the core of what we do as we look to respond to the ever-changing needs of those we serve and the broader community of which we are a part.
To provide safe and caring environments for individuals whose lives are affected by alcohol and other drug dependencies
1981 – Alpha House receives incorporation under the province of Alberta
1982 – Alpha House opens its Shelter and Detox. This is a pivotal innovation for clients with alcohol and other addictions.
1985 – the team concept of client care is instituted with four teams made up of a Shift Supervisor, Senior Recovery Aide and a Recovery Aide.
1992 – with the help of Royal Canadian Legion No. 1 and Alberta Public Works, a women's dorm of four beds is opened in Detox.
1993 – our first open Friday night Alcoholics Anonymous meeting is held. It remains a popular meeting to this day for men and women in the community.
2005 – our Outreach program begins through a partnership with Calgary Urban Project Society (CUPS) and the Downtown Outreach Addictions Partnership (DOAP) is born.
2005 – we began operating as a 24-hour self-referral facility.
2005 – a Development Permit Application is sent to the City of Calgary initiating our Detox addition and Shelter renovation project.
2006-2008 – with community partnerships, we operate a second shelter known as Alpha2 to meet the increased demand due to winter conditions.
2012 – we marked 30 years of community service.
2012 – opened our first Permanent Supportive Housing building.
2013 – the year of the flood. Our main location was flooded. We responded immediately setting up a temporary shelter. We returned to our  main building after a 6 month renovation.
2017 – Although operating Housing projects for many years we opened our first Alpha House own and operated Women's Project
Throughout our history we have maintained a small but effective volunteer base of Board members, food service, client support and administration help.
Presently our programs include: Shelter; Detox; Outreach (including DOAP, Encampment and Needle Response), and Housing. We offer our clients a continuum of care.
2019 – We started our Needle Response Team and became the number one resource for needle debris cleanup in the city
2020 – Alpha House takes on operations of the full Lethbridge Stabilization Centre and Shelter
We open our first Transitional Housing Program in Sunalta 
Past Alpha House Newsletters
Alpha House acknowledges the people of the Treaty 7 region in Southern Alberta, which includes the traditional territories of the Blackfoot: Siksika, the Piikani, the Kainai, and the Tsuut'ina, and the Stoney Nakoda: Bearspaw, Chiniki and Wesley First Nations. We would also like to note that Calgary is situated on land adjacent to where the Bow River meets the Elbow River, and that the traditional Blackfoot name of this place is "Mohkinstsis" which we now call the City of Calgary. The City of Calgary is also home to Métis Nation of Alberta, Region III.