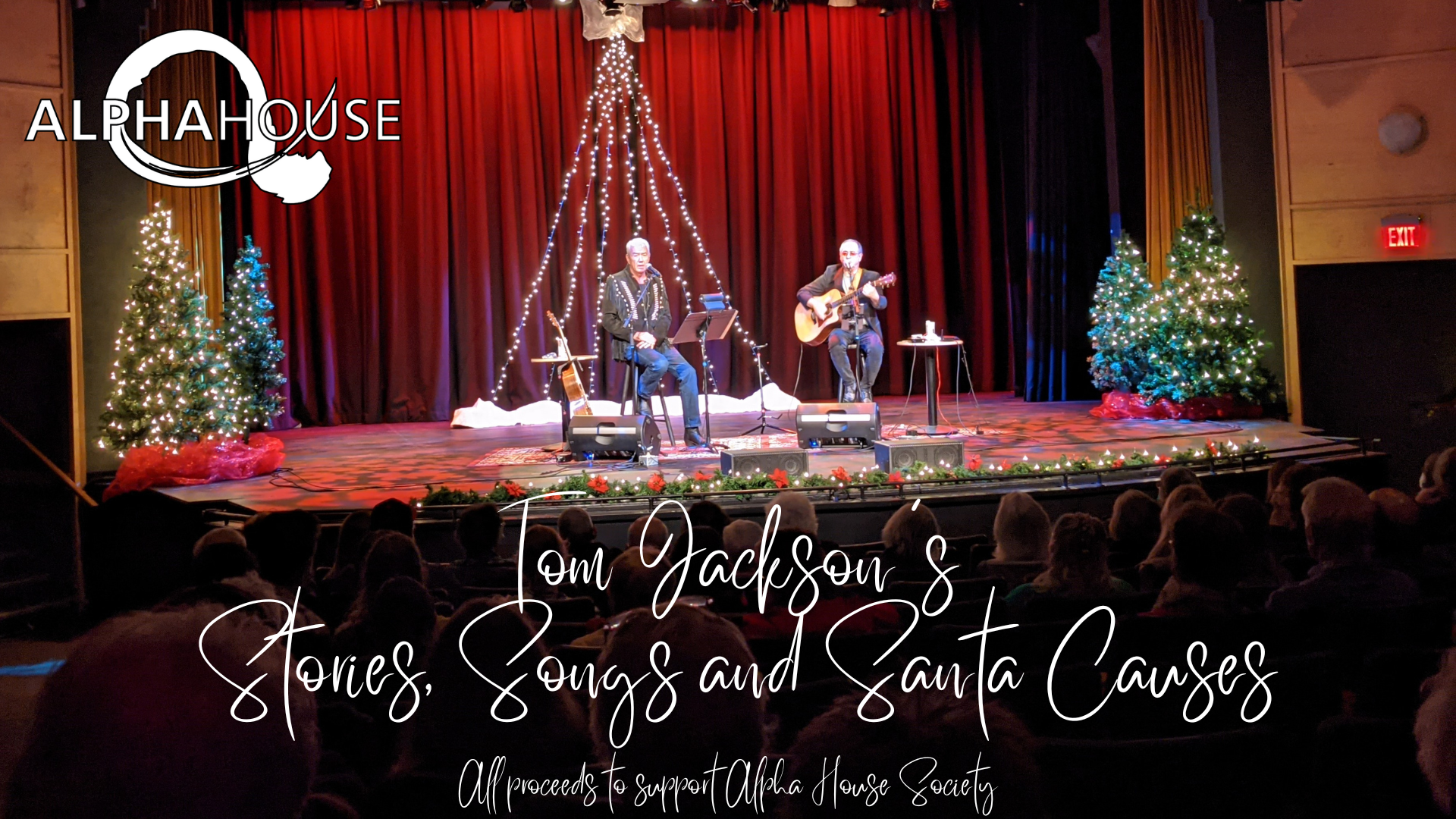 songs, stories, and santa causes
in support of alpha house
Join us on November 30th, 2022 at the Bella Concert Hall as Tom Jackson and friends celebrate the holiday season with the Stories, Songs and Santa Causes concert series in support of Alpha House Society. The performance will see all proceeds donated to Alpha House Society, a non-profit, charitable agency operating in Calgary and Lethbridge, Alberta to support individuals whose lives have been impacted by alcohol or other drug dependencies.
Tom Jackson, founder of The Stories, Songs and Santa Causes Concert Series, is a musician, beloved TV personality, activist, producer and volunteer with Alpha House Society's Outreach DOAP Team.
You'll never hear Tom begin or end any sentence with "when I'm retired". He thrives as a people whisperer, a thoughtful collaborator in all facets of his work, and a force for positivity. His stride matches his 6'5″ frame.
We are so pleased to once again be the recipient of one of Tom's holiday performances and we hope you will join us for an evening of original music, sing-along tunes, and signature Christmas music from this master storyteller as well as a Silent Auction and Art Show hosted by Alpha House. Can't wait to see you there!
 Program
6:15 PM – Doors Open
6:30 PM – Silent Auction and Art Show Opens
7:30 PM – Concert Begins
8:15 PM – Intermission
8:35 PM – Concert Resumes
8:55 PM – Silent Auction Closes
9:15 PM – Concert Ends
Questions?  Silent Auction items to donate?  Other requests?
Contact Shaundra Bruvall, Event Organizer
(p): 403 478 0387; (e): shaundrab@alphahousecalgary.com
SPONSORSHIP OPPORTUNITIES
 Bethlehem Nights Sponsor $5,000
One Available
8 complimentary tickets to Stories, Songs and Santa Causes
First and feature logo recognition at the event (program, signage)
8 social media mentions preceding event
+
Opportunity for sponsor to speak at event
Logo recognition and feature recognition on Alpha House blog
Verbal recognition on stage
Silent Night Sponsor    $2,500
Two One Available
Company name added to Silent Auction (i.e. "Your Company Silent Auction")
4 complimentary tickets to Stories, Songs and Santa Causes
Feature logo recognition at the event (program, signage)
+
5 social media mentions preceding event
Logo recognition and feature recognition on Alpha House blog
Verbal recognition on stage
Starry Night Sponsor    $2,000
Three Available SOLD OUT
Company name added to Art Gallery (i.e. "Your Company Art Gallery")
2 complimentary tickets to Stories, Songs and Santa Causes
Feature logo recognition at the event (program, signage)
+
5 social media mentions preceding event
Logo recognition and feature recognition on Alpha House blog
Verbal recognition on stage
Winter Night Sponsor    $1,000
Two One Available
2 complimentary tickets to Stories, Songs and Santa Causes
Feature logo recognition at the event (program, signage)
+
2 social media mentions preceding event
Logo recognition and feature recognition on Alpha House blog
Verbal recognition on stage
Community       Sponsor       $500
One Available
Company name added to Art Gallery (i.e. "Your Company Art Gallery")
Logo recognition at the event (program, signage)
+
2 social media mentions preceding event
Logo recognition and feature recognition on Alpha House blog
Verbal recognition on stage