Alpha House seeks to promote well-being through community involvement and it's Volunteer Program. The Volunteer Program seeks to respond to the need expressed and sought from our programs: Shelter, Detox, Housing and Outreach.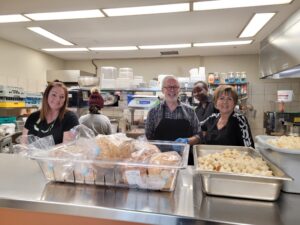 The Volunteer Program at Alpha House primarily has two focuses: the enhancement of the food program and working directly or indirectly in some capacity for our clients.
---
The Enhancement of the Food Program:
Alpha House, like many non-profit agencies, has limited resources. Alpha House recognizes it has a stewardship role in its use of resources. In short, we make less go farther. Volunteerism contributes to this philosophical approach. The food program at Alpha House is enhanced through volunteer involvement. This can include bagging lunches for outreach, sandwich-making for Shelter clients, helping in the kitchen with food preparation. In addition, every Sunday individuals can assist with meal service for Detox and Shelter clients and every Thursday our Out to Lunch Sandwich Group meets to make sandwiches.
Working with Clients:
Volunteers with skills to share have impacted clients. In Detox for example Volunteers have shared their knowledge of art forms from beading to writing to guitar-playing. Some have offered yoga, traditional ways, and mindfulness sessions. Alpha House is open to what you have to offer.
---
Group Volunteering at Alpha House:
Corporate and faith groups are welcomed at Alpha House. Groups have contributed by making sandwiches, setting up clothing drives, making needle and condom packages, cleaning and laundry,  and assisting at events like our Casino and Annual Open House.
For more information and to explore volunteering at Alpha House contact Volunteer and Special Initiatives at volunteerinthehouse
"Volunteering is the ultimate exercise in democracy. You vote in elections once a year, but when you volunteer, you vote every day about the kind of community you want to live in." — Unknown