Across the Prairies – From Assiniboine to Calgary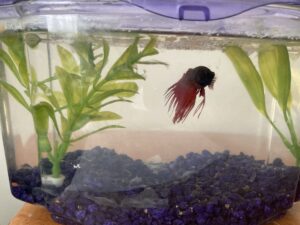 Leonard has been a resident of The Clayton on Bowness Road for almost a year now. Originally from a Hutterite colony in Southern Saskatchewan, he lived in a variety of towns and cities across the prairies before a series of difficult circumstances led him to homelessness in Calgary, AB. He lived on the streets of Calgary for 9 years. Winters were spent in shelters and in the summer he would camp with his friends in Marlborough Park. Last year, a bout of pneumonia left him hospitalised. However, in a positive turn of events, the hospital helped him get in touch with Alpha House who worked with Leonard to find a home that suited him best. 'When I saw the room (at the Clayton) I asked if I could move in right away, and they said okay. So I moved in that day'.
Hailing from a Hutterite colony near Assiniboia, Saskatchewan, Leonard left at 18 to find work outside the colony. He has thought about going back over the years but he describes colony life as being dictated by rules and he had a dream of seeing the world. When he first left the colony, CBC news did a televised interview with him. He spoke then of his ambitions to find work and of struggles with loneliness and learning what felt, at times like a different culture. When he did find work in construction his boss speaks highly of Leonard, saying he's keen and happy to work. This was in Swift Current. However after asking his neighbour to turn down a stereo early in the morning, he was confronted in his apartment by that same neighbour armed with a bat and crowbar. He decided to leave town after this and was forced to quit his job.
He relocated to Saskatoon where he got a job working at a carpet store. His older brother who had also left the colony was living there. He was a successful writer and publisher, releasing books on Hutterite food and culture including The Hutterite Treasury of Recipes. His brother would often test out the recipes and ask Leonard to try them. He recounts one time when they were eating sauerkraut for six months because his brother had made so much!
Eventually, Saskatoon didn't work out either. He describes ending up in a bad way, mostly due to a dealer 'who was available all the time. You'd call him up anytime and he'd be there in 30 minutes. He'd float you $200 worth of drugs. So I paid him off and left town to start over'.
He travelled then to Winnipeg where he built on his experience working at a carpet store to become the manager of a carpet warehouse. In Winnipeg he had a daughter, who is 13 now. 'She's home schooled right now because of COVID.' They speak over Facebook when they can.
After getting back in touch with his first girlfriend, he relocated from Winnipeg to Calgary. He found a basement suit in Calgary but then ended up without a home after his relationship didn't work out. Him and some friends would camp out in and around Marlborough Park. 'We'd lean boards against a wall and stick a tarp over'. In the winters when it got cold he'd go to various shelters. But he expressed some hesitancy about using them. 'I'm not a big guy. The walk to the shelter can be scary'. He mentions staying at the shelter Alpha House runs downtown and that he appreciated their harm reduction approach.
A year after he ended up on the streets, his brother passed away. Leonard speaks fondly of his brother but says 'his death hit me really hard. My dad passed away around then too.' It was 2011 that he ended up on the streets, but his main point from the year is that the Boston Bruins won the Stanley Cup. His favourite hockey player is Patrice Bergeron; their captain. He watches Boston play whenever he gets the chance.
When he talks about growing up on the colony, he mentions the stigma he felt when he'd travel into town. He speaks about running into gangs of teenage boys when he'd visit the mall in Moosejaw. He was afraid to tell people he was a Hutterite for a long time after that. But over the last 15 years he says 'I'm not afraid to tell people anymore. I'm just a human.' He has 8 brothers and 4 sisters, most of whom live on colonies. He's been back to visit but because of religious custom he can never move back permanently.
He likes his room at the Clayton, and even has a pet fish named Leonard Jr. He's been able to access a pharmacy for smoking cessation aids, which he gets every month. He's got a TV set as well where he can watch his favourite show Big Brother. 'I applied for this season but didn't get accepted' he relates. Leonard also loves watching Survivor and Britain's Got Talent. His favourite song is You are the Reason by Britain's Got Talent Star Calum Scott.
The Clayton is run by Calgary Alpha House Society and was built by HomeSpace in 2019; a 30-unit permanent-supportive housing program with 24/7 wrap-around supports. The building is one of a handful of affordable housing options in Calgary designed for people who have experienced chronic homelessness.