Shaundra Bruvall | November 21, 2023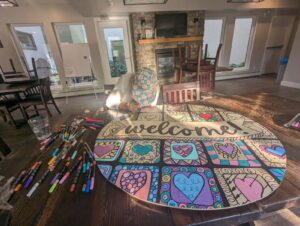 National Housing day exists in Canada to remind each of us of the importance of affordable housing for all. If you are lucky enough to never have had to worry about shelter for you and your family, it can be easy to overlook the barriers faced by so many and the critical nature of having safe, affordable housing.
National Housing Day aims to provide more advocacy for people experiencing homelessness within Canada, and serves to remind us that there is much to be done to make sure that all Canadians have access to affordable and safe housing. Current estimations suggest 235,000 Canadians may experience homelessness in a given year. Many people experiencing homelessness have multiple barriers to gaining affordable housing, such as lack of consistent or adequate income, mental or physical health issues or substance use addictions.
It has become more and more clear over the past decade that Canada is facing a housing crisis. Growing costs of housing and a strong demand with insufficient supply has led many Canadians, unable to afford market prices, to become entrenched in unsafe or inadequate housing units, or to become unhoused. In Calgary, the average house price is $553,300, and market prices for apartment rentals are currently averaging $2,178. These prices are often unaffordable for so many and, as a result, it becomes more and more likely that individuals, couples, and families will be forced to stay in unsafe housing situations, places that don't meet their needs, or risk becoming unhoused.
Alpha House Society works alongside other homeless-serving and housing agencies in Calgary and within the Calgary Homeless Foundation's Housing Strategist programs to transition people experiencing homelessness into housing. Alpha House offers two different types of housing programs: permanent supportive housing (PSH) sometimes called Place-Based Housing (PBH) and Community (Scattered-Site) housing. Alpha House's PSH program is made up of seven different apartment buildings throughout Calgary. Each offers individual case management and goal setting, as well as group programming case, supporting each resident to improve their circumstances by learning new skills, reducing harm related to substance use, and establishing and creating community for everyone.
Alpha House's Community Housing program supports clients to transition towards independent living. Clients in the program are housed within the community with their own units and sign their own leases. Caseworkers support clients with intensive case management to help with basic short and long-term needs and reduce the likelihood of re-entry into homelessness.
There is a vast array of needs when it comes to housing and, to ensure stability, it is critical to meet those needs with a spectrum of housing options; matching needs with services. In the homeless-serving sector, housing options are critical to reducing barriers for individuals who are rough-sleeping, struggling with mental or physical health challenges, and dealing with substance use addiction
Alpha House believes foremost in a Housing First approach to solving homelessness –  without barriers and without exception – providing housing regardless of an individual's personal circumstances and, as an agency, our continuum of programs work to meet individuals where they are at, determine what type of housing would suit them best, and support them in transition.
National Housing Day exists to remind Canadians that every person deserves a home, four walls and a roof. Many Calgarians are feeling firsthand the impacts of the housing crisis. aware of how the housing crisis. The City of Calgary Council recently passed a strategy with the goal of ensuring every Calgarian has an affordable place to call home. This strategy has five main points: 1) increase the supply of housing, 2) support affordable housing providers, 3) enable the City's housing subsidiaries to improve service delivery, 4) ensure diverse housing choice, and 5) address the affordable housing needs of Indigenous people. This strategy was adopted on September 16, 2023 with implementation plans stretched out over 2024-2030.
Federally, Canada has also implemented a national housing strategy which includes investing 40 billion dollars into different housing strategy targets, such as a 50% reduction of emergency shelter stays by those chronically homeless, 385,000 community housing units protected, and another 50,000 units created through an expansion of community housing. Alpha House knows the importance of safe, supportive, and affordable housing and we stand with all agencies, government bodies, and developers who are working towards Housing for All.
Written by Alpha House Staff (Amy Sutherland)
Government of Canada. (2017). Canada's National Housing Strategy: A place to call home. https://eppdscrmssa01.blob.core.windows.net/cmhcprodcontainer/sf/project/ placetocallhome/pdfs/canada-national-housing-strategy.pdf
City of Calgary. (2023). Home is here, the City of Calgary's housing strategy 2024-2030. https://www.calgary.ca/communities/housing-in-calgary/housing- strategy.html#:~:text=Home%20is%20Here%2C%20The%20City%20of%20Calgary's%20 Housing%20Strategy%20was,office%20conversions%20to%20support%20students
Alpha House. (2023). Housing Program. https://alphahousecalgary.com/how-we-help/housing- program/
Homeless Hub. (2021) How many people are homeless in Canada. https://www.homelesshub.ca/ about-homelessness/homelessness-101/how-many-people-are-homeless-canada
Average house price in Calgary. (2023, October 16) The Canadian Magazine of Immigration. https://canadaimmigrants.com/average-house-price-in-calgary/ #:~:text=The%20average%20house%20price%20in,over%20year%20in%20September%2 02023