Shaundra Bruvall | February 8, 2022
Look to this day. For it is life,

The very life of life.

In its brief course lie all

The realities and verities of existence,

The bliss of growth

The splendor of action. The glory of power-

For yesterday is but a dream. And tomorrow

Is only a vision. But today, well lived,

Makes every yesterday a dream of happiness

And every tomorrow a vision of hope.

Look well, therefore, to this day.
Sanskrit proverb by Kalidasa, poet and playwright
5th Century ad from the opening of Twenty-Four Hours a Day first published 1954 Hazelden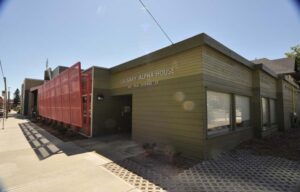 Perhaps those that worked to have Calgary Alpha House Society incorporated and its building remodeled in preparation for opening, were familiar with this poem from the East Indian poet Kalidasa. Perhaps the Justice and Solicitor General, Neil Crawford, who supported the project under Premier Lougheed, was also aware of the simple elegance of this prayer like poem. What seems to have been present beyond the economic bust and boom of Calgary at the time was the intention to address the need for doorways to recovery for those with alcohol and other drug dependencies and the safe and caring environments to make hope a reality.
Alpha House is marking its 40th year of operation in the community of Victoria Park; we officially opened in January of 1982. Born out of innovation, Alpha Centre (as it was then called) opened a shelter and detox together, connected by a shared building and staff, and the common goal of recovery. It opened partly as a way to address the loss of life and limb in Calgary's cold winters due to frost bite, to ease the strain of policing for those publicly intoxicated, and to help as an AADAC-funded (Alberta Alcohol Drug Abuse Commission, 1951) agency to address the alcohol and drug addiction-impacted migrating population coming to Calgary for oil and gas work.
The origin of the name Alpha House consensus wise is unknown. Alpha and Omega as a reference to Revelation 22:13 wasn't by all accounts the reason for the name Alpha House, any more being Alpha male or female was the reason.  Alpha meaning 'the beginning of something' or the 'first in a series', has stuck over the years. First steps, small or big towards a better life for marginalized people and collectively for the betterment of all of Calgary was perhaps the unwritten mission statement at the time. However, one board member from 1985 that I Interviewed in 2009, Stuart Hutton, had a different take. Stuart took the name 'Alpha' not as representative of the Greek alphabet or as defined as the beginning of something, nor as a stock market risk adjustment (which is one interpretation). Instead he took the meaning of 'Alpha' from astronomy; a name given to the brightest star in the constellation.
He explained at length how the Southern Cross was the brightest constellation visible from earth and, in a rare moment of sentiment, Stuart stated that the entrants (as clients were referred to then) were the brightest stars that often didn't know it themselves but with care would come to their full understanding and brightness with a little bit of help. House was added, he said, 'because we wanted people to feel at home'.
I appreciate Stuart's definition and generosity towards me. As he told it, 'in the early days at Alpha House the focus was on finding the right staff ', who could check their moral assumptions at the door and offer kindness for the women and men that rang the bell to come in and for whom the staff were hired to serve.
Unsurprisingly, Stuart and the Board of 1985 along with the Director W.J. Henry and his staff developed the concept of four teams made up of a Shift Supervisor, Senior Recovery Aide, and a Recovery Aide on rotation, to meet client needs. This opened the door to allow staff to directly impact operations and put the client first in the decisions made about programing. This approach became a benchmark. It also saw the creation of a Client Care Coordinator position in 1985.
Regardless of its origins, the name came to mean treating entrants with the respect they deserved as human beings. This too remains a benchmark.
Our history was marked by humble beginnings and by the determination to meet people where they were at. Without judgement, and with care and safety, Alpha House moved forward.
On Jan 1, 1982, the day Calgary Alpha House Society opened its doors, the AA Mediation for the Day from the little black book 'Twenty-Four Hours a Day' may have given inspiration to those founders of Alpha House. I like to think it may provide inspiration for many of us at Alpha House to this day.
"In the new year I will live one day at a time. I will make each day one of preparation for better things a-head, I will not dwell on the past or the future, only on the present. I will bury every fear of the future, all thought of unkindness and bitterness, all my dislikes, my resentments, my sense of failure, my disappointments in others and in myself, my gloom and my despondency. I will leave all these things buried and go forward in this new year, into a new life."
Some of the story threads may have been lost over the years' but from what I have learned from those I was able to meet from Alpha House's beginnings, many of the men and women from AA and AADAC greatly supported the emergence of Alpha House. They welcomed the potential for positive individual change and recovery. Another benchmark.
Peace,
David
David plans to write a series of blogs to celebrate Alpha House's 40 years of Community Service.