Shaundra Bruvall | December 1, 2023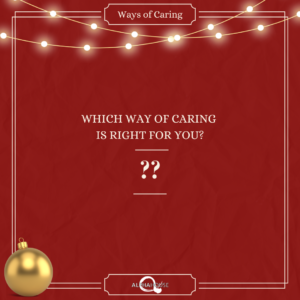 'Tis the season for giving, and what better way to get into the giving spirit than by following along and joining in with us as we explore the many Ways of Caring available for those looking to do a little something for vulnerable individuals in Calgary! We're very excited to be launching our Ways of Caring Campaign for a 3rd year in a row; from December 1st to the 31st, across all of our social media platforms, we will be sharing different ways you can support Alpha House, our clients, the addiction and homelessness sectors, and other non-profits in the Calgary area.
It's not all about giving money to our programs, or donating in-kind items for our clients (although, you're more than welcome to offer your support in those ways); We recognize not everyone is in a position to give monetarily or physically, which is why this campaign will highlight a myriad of ways you can support your community with varying degrees of involvement. The Ways of Caring campaign is designed to be accessible, unique, and engaging— whether you're looking to be very involved with your act of kindness or you're looking to offer your support from the comfort of your own home, we've got you covered!
Alpha House has been doing the 'Ways of Caring' campaign for a couple of years now, because we love giving people the opportunity to show how much they care about social issues in the city and we are continually blown away by the number of people wanting to be a part of our community of giving! Ways of Caring originally started as "12 Ways of Caring"— a play on the classic holiday song titled 12 Days of Christmas. As we continued with this idea, we found that there were many more than 12 ways to do good in the community around the holidays, so we're bringing you TWENTY-ONE meaningful Ways of Caring for the month of December. Participate in 1, participate in 5, participate in all 21! Whatever and however you choose to engage, we appreciate you coming along with us this holiday season.
In advent calendar fashion, we will be UNVEILING a new WAY of caring on select days in December Follow our social media channels to make sure you don't miss a day!
However, and in whatever way you can help will make a difference.
Happy Holidays!