Alpha House Partnership with Calgary Transit Continues!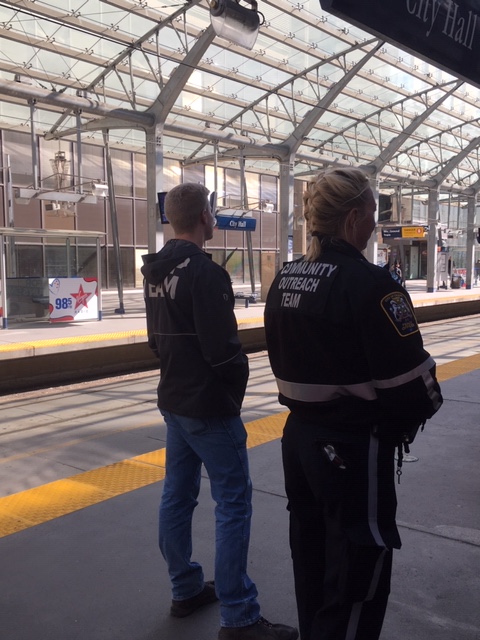 We are so excited to be continuing our partnership with Calgary Transit to bring the Downtown Outreach Addictions Partnership (DOAP) team to city transit, providing a new avenue for vulnerable individuals to connect with addiction services and other social supports.
Alpha House started the pilot for the DOAP Transit program alongside Calgary Transit in September 2018. Funded by the City of Calgary's Crime Prevention Investment Plan, the Community Outreach Team consists of a Calgary Transit Peace Officer and one of Alpha House's DOAP team members.
In the 6 months since its creation, the program has had 667 interactions with individuals on city transit. These interactions have led to over 200 welfare checks, 148 case management portfolios, 124 transports, 43 referrals to other community outreach programs, and 16 hospital visits.
"The Calgary Alpha House Society and Calgary Transit partnership has enriched our ability to bring the appropriate support to vulnerable Calgarians while improving safety and facilitating access to services individuals require." Kathy Christiansen, Executive Director, Alpha House. "We look forward to continuing the collaboration and building on the great work that has already been achieved."
If CTrain riders see someone who may need assistance, they are encouraged to use a Calgary Transit Help Phone or dial 403-262-1000 (option 1). If an emergency, call 9-1-1 immediately.
For more information about the DOAP Transit team, along with Alpha House's other Outreach programs, visit https://alphahousecalgary.com/services/outreach/.
You can check out more media coverage detailing the program extension below:
Calgary Transit DOAP program a success, will be extended through 2019: city
April 24, 2019 | Heide Pearson, Global News
Calgary Transit and Alpha House will continue partnering to help vulnerable Calgarians
April 24, 2019 | Dave Dormer, CTV News
Calgary Transit teams with Alpha House to help vulnerable
April 24, 2019 | Dean Pilling, Calgary Herald
Calgary outreach program building connections with most vulnerable
April 24, 2019 | Kass Patterson, 660 News