Memorial Wall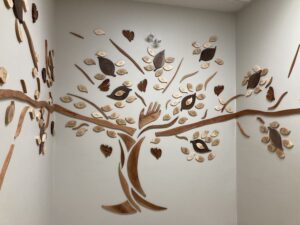 We're standing in Alpha House's Cultural Room, a relatively new space we created for client programming. The wall at the entrance of the space has recently been prepped and primed for today's project and Brandon and Dave, from the Dream Centre's Woodshop Program are looking forward to getting started. This project has been several months in the making.
Alpha House has commissioned the Dream Centre's Woodshop Program to create a memorial wall for those lives that have been lost to addiction. Brandon has been with the woodshop for 2 years; Dave: 1 month but it's a project meaningful to people on both sides.
"This one is a little bit different than the normal projects. I always wanted to do something like this with the dream centre but that hasn't worked out yet."
Brandon says he's enjoyed working on the project; he went through the Dream Centre's Addiction Treatment program over 3 years ago so it mattered to him to make sure the design was done right. "When I originally did the quote it was with cheaper wood, but as we started mapping it out, we decided to use something that had more weight and substance to it cause of what the project was about."
The design was important to Alpha House too. We provided foundational imagery for Brandon and his team – we wanted the butterfly represented, a long standing image Alpha House has aligned with, because it symbolizes not only the fact that we all go through change in our lives, but also that we can experience periods of darkness and still come out the other side to something beautiful. The tree felt like the best way to represent that we are all connected to eachother and to the land; the leaves a way to remember each name.
Brandon and his team added their own elements as well. "We had Alpha House's example to go off of and we incorporated the butterfly as well, but we also wanted to have unique elements." The idea to use different woods for the leaves (including ash and oak) was a way of creating individuality while still having unity. "We also added a round over to each of the leaves – which we hadn't originally planned to do – but it added more substance and made a really nice effect overall."
It feels especially meaningful to have these considerations and personal touches as part of the design for a project memorializing a life. No plan ever goes exactly the way you think, Brandon adds, but there were processes that came about during the creation of the design that added more meaning, which was particular important for everyone involved.
"You're trying to represent people. Once you really start thinking about it – it's not like it's an accent wall in someone's house.
Once you realize what it's about you put more thought and heart into it"
Finishing in time for International Overdose Awareness Day wasn't planned, but this too adds a poetry to the project we couldn't have predicted. Alpha House has been caring for those with addictions since 1981; the memorial wall was a passion project of ours and we are so grateful to have had the opportunity to bring it together in this way. In an ideal world, we would never have to add another name but until public policy catches up to the realities of addiction, we will hold space in our hearts, our memories, and now here.