Mobilizing Technology to Resolve Complex Social Issues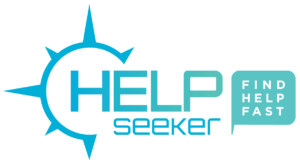 HelpSeeker is a registered B-Corp Social Enterprise with a mission to scale systems change to resolve complex social issues. One of their most celebrated new creations The HelpSeeker app is a free network of location-based services, resources, and support you need to help your clients and the community. We had the opportunity to sit down with some of HelpSeeker's team members to get the scoop on how things are going and what they hope their new initiatives will accomplish.
Who is Helpseeker for?
The HelpSeeker navigation tool can be used by anyone who might need to find help, whether for themselves, or on behalf of someone else.  Because HelpSeeker is used by thousands of people seeking help, it is also a great marketing tool for service providers, as it helps to get their information out to more people.
HelpSeeker also offers other digital tools that provide valuable insights for people in decision making roles, who want to understand the needs of their residents better, so that they can make more informed decisions that will lead to better outcomes.
Are you marketing the app to the general public?
Yes!  We have two apps: the HelpSeeker app and the Wellbeing Screener, which are free for anyone to use, anywhere across Canada.
HelpSeeker is a navigation tool, where people can search anonymously for supports in their community that can help them address their needs, including help services, helplines, benefits, and social programs available in a community.
HelpSeeker is great for frontline workers and people who have a good sense of what they need help with.  But sometimes it isn't always clear to someone that the problem is: they may know they aren't feeling their best, but can't quite pinpoint what they need help with.  In instances like that, the Wellbeing Screener is a quick way to assess any urgent needs, and start the process of understanding what resources are available nearby, and connect to them directly, or share with a friend or family.
There are a lot of social service organizations in Alberta. How has the app changed navigation of those services for people who need them?
The most common cited concern we hear is that people just don't know where to go for help. Which is too bad, because there are thousands of support services available across Alberta ready and willing to help.
HelpSeeker was created by people with lived experience in social issues, who also worked as frontline workers.  They knew firsthand that trying to find help, whether for yourself or for someone else, is a complicated and overwhelming process.  Their goal in developing HelpSeeker was to simplify the process, so that people could get access to help more quickly.
We appreciate that often people seeking help are those in very vulnerable situations, and we designed HelpSeeker using that lens.  The app is completely anonymous to use, and is free to download.  It can be used on any Smartphone (Apple or Android device) or can be searched using any desktop with internet access, in 23 different languages. 
Navigators can select from over 80 different search tags to search for issues particular to their needs, or they can use our smart search bar, which recognizes informal terms that might be used (ie. if someone types in "I'm hungry", the smart search would know to find services that offer food).  Based on the search results, navigators can click on the listing to see a short and helpful description about the organization and their services/programs, contact information, hours of operation, whether the person fits the eligibility criteria, whether or not the service or building is wheelchair accessible, and in certain cases, whether the organization has enough the ability to help them right away. From there, they can either call or email the organization directly.
There is also a map that the navigator can see where the organization is located, as well as a directions button that connects to Google maps, so that people can plan their route to get there.
What's the current scope of the app in terms of locations where it is available?
We are currently available in more than 200 Canadian communities, but thanks to a recent investment from CMHC, we will be in every Canadian community within the next 3 years.
What are some of the trends you have been able to see through the app's data and are you / how are you / using that to improve its efficacy?
Having the ability to compare what supports people are searching for with where supports are located is really useful, as it provides a starting point for identifying where possible gaps and/or duplications exist.  The data can also be used to help improve program design, and to help communities develop responses to rapidly changing needs, like what we experienced with COVID.
We're always taking feedback from service providers and people using the app on ways to improve the user experience. Look for new improvements later this year!
Have social service organizations been open to the idea of the app?
Yes!  The response from social service organizations has been tremendous, especially as they appreciate the important role they play in the overall systems transformation process, and discover how the app can really help their staff and frontline workers spend more time working one-on-one with their clients, instead of spending time in front of a computer navigating services. Organizational leaders like that they can use the service provider dashboard to get a snapshot of their organization's overall program capacity, which can help guide decisions for future programming and funding allocations. They also like that people who have used their services can send private feedback directly to their organization, so that they can assess how to improve their service delivery.
 What is the biggest roadblock you have faced with the app's implementation or progress?
Our most exciting challenge is getting the app into the hands of people who need it. We're continually brainstorming new strategies to do this!  And we are always on the lookout for people that can help us raise awareness in their community.
What's your favourite feature of the app?
It's hard to narrow it down to just one favourite feature!  I would say that my favourite feature is our smart search bar, which has the ability to recognize everyday, common terms, like "I'm hungry" or "need clothes", and will show results accordingly.  It's very cool!  We're always adding new features, so  stay tuned for more!
You can download the HelpSeeker App and the Wellbeing Screener for free wherever you get your apps!