Remembering Krista Lee Karch
Live a life that matters. These are the words Robin Spooner shared at her sister Krista's funeral in 2015 and they are the same words on a t-shirt she's designed in memory of her sister to help raise money for Alpha House.
"Krista lived a life that mattered. She was an incredibly kind, generous and caring person. Even when she was living on the streets, if she had a quarter in her pocket, she would gladly give it to someone who needed it more. She had a huge heart," says Robin.
Krista also lived with mental illness and struggled with borderline personality disorder. She was extremely smart, with a genius level IQ. Diagnosed as a teenager, Krista took medication and participated in the Young Adult Program at Foothills hospital as part of her treatment plan. Her family, including her little sister Robin, loved and supported her.
"There were times when Krista was stable and doing well, but with her addiction, she would spiral downward," Robin remembers. "She had multiple suicide attempts. Even though we tried to do everything we could to help Krista, with her illness she made hard choices and spent time living on the streets where she also connected with Alpha House."
Through Alpha House, Krista received support for her addiction and secured housing, finding some stability once again in her life. However, the years of abuse to her body and her suicide attempts took a toll and Krista experienced many serious health issues, including heart problems and breathing difficulties. Despite having to be on oxygen 24/7, she found ways to encourage others through her love of crafting.
In September of 2015, she was busy making cards for Alpha House clients as a way to show her caring for them. She fell ill and was hospitalized, passing away on October 3, 2015.
Robin and her family are carrying on "As a family, we are forever grateful for how Alpha House helped Krista. Addiction and mental illness can be all consuming for a family and sometimes it's hard to separate the illness from the person. It took a lot of pressure off of our family to have the help of Alpha House," says Robin.
She adds, "We've learned many lessons over the years. We couldn't save Krista, we could only love her. We tried to help her, but you can't save someone unless they are ready for your help."
Today, Robin and her family are still connected to Alpha House, carrying on Krista's legacy of caring by supporting the work of Alpha House through t-shirt sales and other donations, such as water bottles during the hot summer months, or 100 hand-crafted cards for clients made by Robin's daughter.
"There is nothing we can do to repay Alpha House – and staff like Janessa and Sam – who do so much for Krista. We just want to do as much as we can to help as many people as possible."
Live a Life that Matters t-shirts also include Krista's initials in the design as a lasting connection to her memory. Proceeds from the t-shirts are going to Alpha House and the RESOLVE Campaign as a thank you for surrounding Krista with a home and love when she needed it most.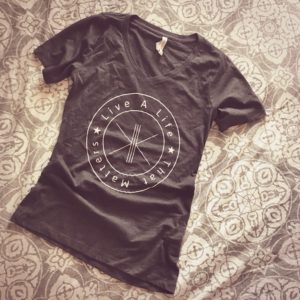 T-shirts are $35 and are available in adult sizes by emailing livealifethatmatters@shaw.ca and you can follow Robin on Instagram at @live_a_life_that_matters.