Why do you volunteer?
Asking the tough questions of our Volunteers this National Volunteer Week:
Why do you volunteer?
We caught up with one of our kitchen volunteers, Howard, while he was working away on today's lunch meal.
This is Howard.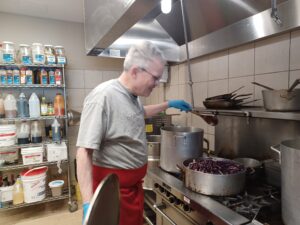 Every day, Alpha House serves one meal to shelter clients and three full meals for our detox residential program. It certainly keeps our kitchen staff busy; our incredible volunteers help with the workload. But Howard tells us the only reason he sticks around is because he gets to learn cooking tips from Manny [one of Alpha House's cooks] – like learning how to make "Manny's famous braised cabbage", he jokes, lifting the pot to show us the floating purple shreds. "It's actually very complex!"
Jokes aside, he says he likes to volunteer at Alpha House "because I like being a part of a place where they're helping people struggling with addiction, it's a great cause." Howard started volunteering with Alpha House through our Thursday afternoon sandwich making group. But he prefers the kitchen work. "I started up in the kitchen because I like to cook……and this is more interesting than making sandwiches," he says, laughing as we snap a photo of him stirring the close-kept secret braised cabbage dish – highly anticipated in the cafeteria that day.
We love having Howard around in the kitchen and appreciate our awesome kitchen staff even though they were clearly bribing Howard before the interview – surely that's the only reason he told us: "…..and the kitchen staff, Vik and Manny, are great guys." 😉
Joan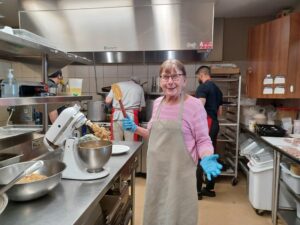 Joan laughs when we ask if we can bug her for an interview while she stands whipping ingredients for some baked goods soon to be served as dessert. "Why not?" she says with another giggle. Howard is egging her on from his place by the stove.
"I just moved to Calgary last July, and I wanted to be giving in service somewhere!" Why Alpha House? we ask. Well, it might have something to do with our awesome staff, our exciting volunteer opportunities, or our world-renowned meals…….or maybe none of the above?  "I live two blocks away," Joan laughs, "so Alpha House was a great fit."
But we do have things other than proximity to recommend. "I like that the staff and the space are always warm and friendly, and the kitchen has a good vibe as well." Good vibes, good food, and a good cause – that is definitely what we are about. And Joan says volunteering with Alpha House has also made her even more comfortable speaking with the clients we serve when she's out on the street. "I worked in healthcare so I'm very comfortable with lots of people. Volunteering here though now I know so many of the people I see on the street so I can talk to them easily."
Nimira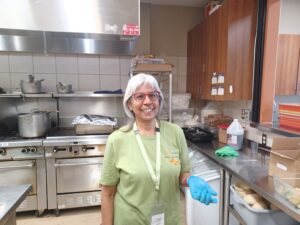 Nimira promptly said, "no" and then eventually, "oh okay" when we assured her the interview questions were not brain-stumpers. She doesn't stop her vegetable chopping as we prompt her to tell us why she volunteers. "I volunteer to make a difference, and to fill the gaps that exist for agencies who otherwise wouldn't have this support. I want to try and make a difference, and help the disadvantaged in my own small way, and to give back to the city."
Nimira also noted that Alpha House is her favourite place to volunteer (we didn't prompt her on that one, we promise). "Alpha House is my favourite place to volunteer; I can see the difference I'm making here firsthand. I also get to meet interesting staff and volunteers, and learn more about the work that they do." Our staff in the kitchen have clearly created a warm, welcoming, and most importantly… fun environment given we have heard from all our volunteers that interacting with staff is a highlight of volunteering for each of them.
She continues to mention one of the ways that she sees her impact in the community. "I see the DOAP Team out on the streets and I like that I'm able to help them by making sandwiches that they can give out to people in need."
And since we promised this would be our last question, Nimira grants us a little sneak peek into her life away from Alpha House: "In my free time, I like to walk along the river, and read at the public library. Mysteries are my favourite genre, and my favourite authors are Sydney Sheldon and Jeffrey Archer."
Alpha House is so pleased to celebrate National Volunteer Week 2023; with the wonderful folks who support our work across all our programs, it makes it easy to celebrate.
Thank you to all our volunteers past and present!