Shaundra Bruvall | October 1, 2019
Calgary – A beloved holiday season tradition, The Huron Carole, is dedicating its proceeds to helping to keep the Alpha House DOAP team on the street in 2020.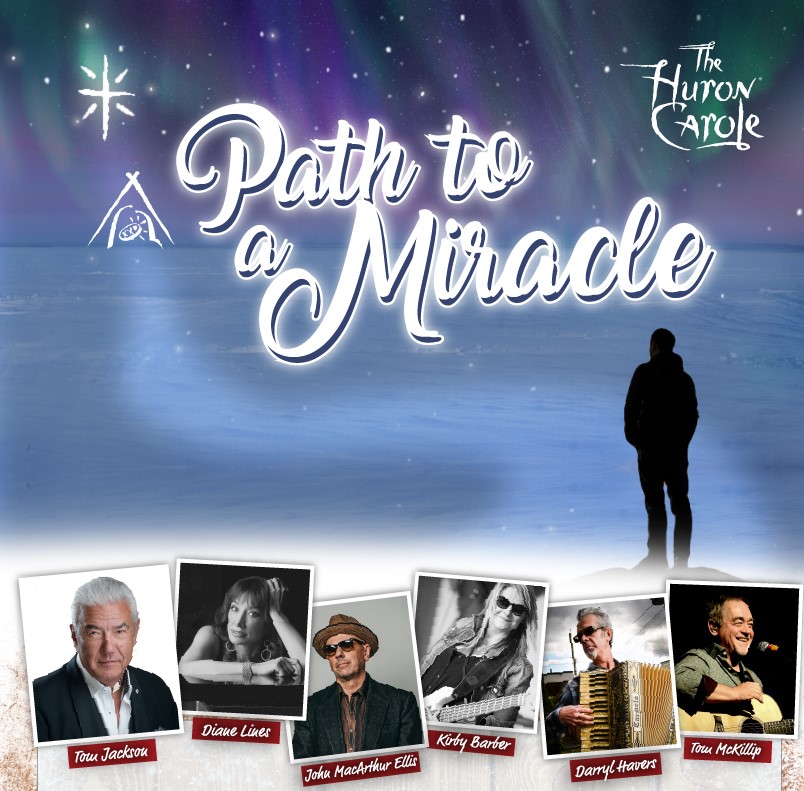 Tom Jackson, founder of The Huron Carole Benefit Concert Series, is a musician, beloved TV personality (North of 60, Star Trek, Law and Order), long-time champion for the marginalized and a volunteer member of the DOAP team. Having experienced life on the streets himself, he discovered music was a way to help others. This year's concert on December 3rd at the Bella Theatre takes on an urgent purpose as it raises money to continue funding the DOAP team that is impacted by an 8% reduction in provincial funding to the Calgary Homeless Foundation, which is a funder of the program.
"DOAP is an essential mobile and outreach service that is doing unique work within our city. Team members travel throughout the inner city, Beltline and outlying communities to assist people under the influence of drugs or alcohol who need help navigating shelter, detox, medical services, housing and other programs and resources," says Kathy Christiansen, Executive Director, Alpha House. "We are working to identify new sources of funding through various levels of government, corporate and community partners. Tom's generosity in dedicating one of this year's Huron Carole concert proceeds to DOAP brings our community together to continue to help the evolving and unique needs of vulnerable Calgarians. We are asking Calgarians to buy tickets and get involved through sponsorship and silent auction donations."
The current shortfall is about $20,000/month to operate the DOAP team that averages 57 transports a day. The larger cuts projected for April 2020 without replacement funding will lead to a reduced presence of the DOAP team across the city and a much more limited response. DOAP will then be focused solely on the Beltline and downtown areas at reduced hours and will not be able to assist those who need help in surrounding communities.
"As a member of the DOAP team, I see firsthand the impact we have on marginalized people every single day. Dedicating one of this year's Huron Carole performances is a way that I can invite Calgarians to be part of the solution in a meaningful and soulful way," says Tom Jackson. "Path to a Miracle is our theme this year as we pay attention to the light inside all of us…the path we create and the path we leave behind."
If you are interested in supporting the DOAP Team through The Huron Carole, you can purchase tickets, become a sponsor, or donate to our silent auction.
Concert Details:
The Huron Carole, Tuesday, December 3, 2019, Bella Concert Hall, Mount Royal University
Tickets: www.tickets.mru.ca/huroncarole
$55 – reserved seating
$100 – reserved seating and Tom Jackson meet and greet
Sponsorships and silent auction donations: donate@alphahousecalgary.com     
About The Huron Carole
The Huron Carole is a seasonal music tradition spanning more than 3 decades touring from coast to coast to coast. Expect an evening of contemporary and signature Christmas music, along with stories creatively crafted by Tom Jackson. Award winning musicians Tom McKillip, Darryl Havers, John MacArthur Ellis, Kirby Barber and Diane Lines join Tom onstage. This performance will be one of 16 across Canada raising funds for local food banks and family service agencies.
Helpful links:
The Huron Carole: https://huroncarole.ca
Tom Jackson DOAP Video: https://www.youtube.com/watch?v=_c-dJTPmv-A&t=13s